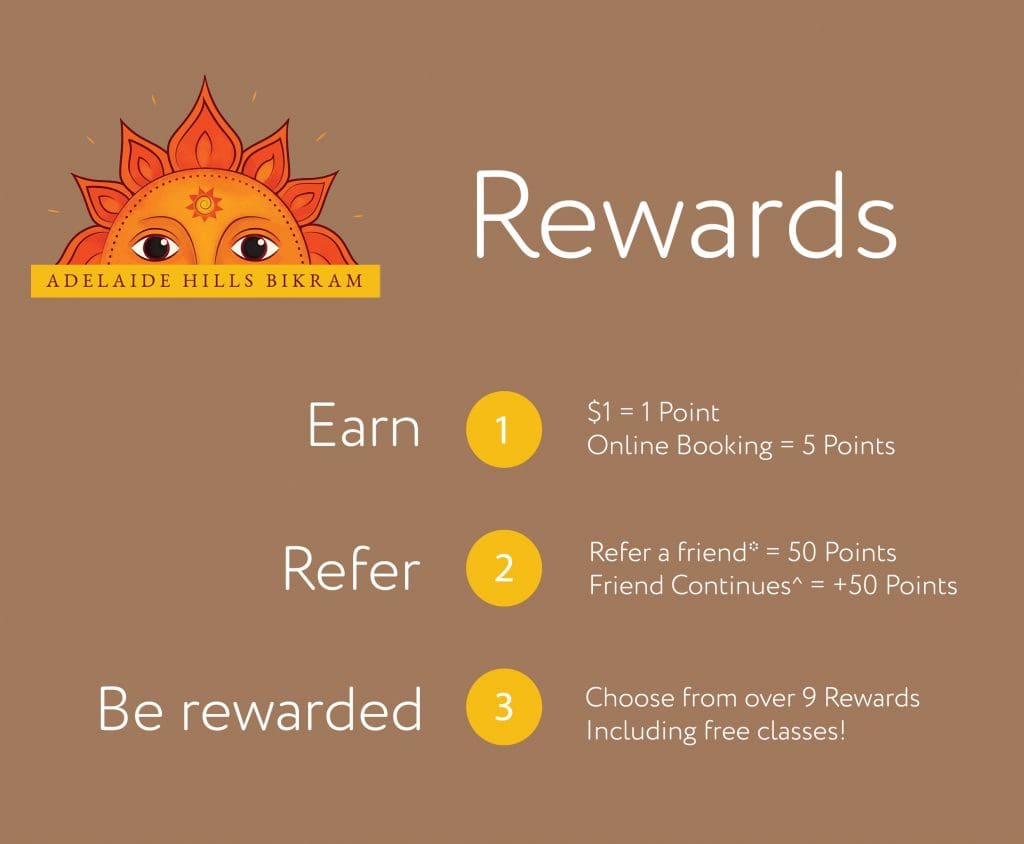 Be rewarded with the Adelaide Hills Bikram Rewards program.

Earning points is as simple as practicing! Exchange your points for amazing things like discounts, classes, memberships and more!
It's our gift to you!
How does it work?
You can earn points in three simple ways:
1) Making purchases at the studio or online.
2) Booking into classes online.
3) Referring friends.
The points are then automatically added to your account.
What Rewards can I get?
There are many different rewards that you can choose from! They range from free classes to gift cards. To claim a reward simply collect the points required for the reward and let the teacher know what reward you would like to cliam!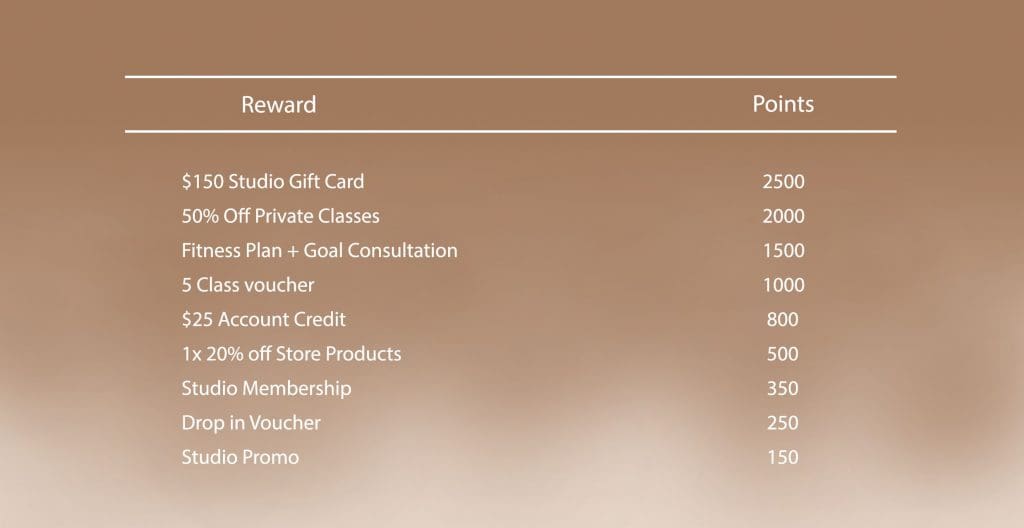 How can I check my points?
You can check you points by logining into your Mindbody account here.
Is there a limit on the rewards that I can claim?
Most rewards you can claim as many times as you would like. However to keep things fair for everyone we have some limits on the rewards that can be claimed each year:
| | |
| --- | --- |
| Reward | Limit |
| 1x 20% off store products | 1 |
| Studio Membership | 1 |
| 1x Drop in Voucher | 5 |
| Studio Pen | 2 |
Do my points ever expire?
Points expire two years after they are first earned. Make sure to check your balance regularly and use them before they expire!
What are the terms and conditions?

The Adelaide Hills Bikram Rewards program is governed by these terms and conditions: Adelaide Hills Bikram reserve the right to change, modify, suspend, continue or terminate any part of our Rewards at any time. Points and rewards are valid for Adelaide Hills Bikram only. Points are not valid for cash back. Points and rewards cannot be combined with any other offers. Points are non-transferable and non-refundable and cannot be combined for shared pass holders. Points and rewards do not cover tax. Vouchers are subject to time use limits. If you book and cancel, points are not earned. Points are earned per transaction flow; double points are not earned for booking and paying in same transaction – if you wish to earn points this way please pay then book. Class vouchers not redeemable for special classes or workshops. Rewards program subject to fair use and redemption limits apply per year per client. Points valid for 2 years from date of accrual.
Referral points are earned when you refer a new student who buys any intro pass or class pass (excludes single drop-ins). For referral points to be earned they must list your name on the registration form. Strictly one referral per client. Referral bonus points are added in month after, if your referred friend continues and purchases a 2nd pass after their first pass within 1-month of their first class.