Together against the cold, flu and viruses.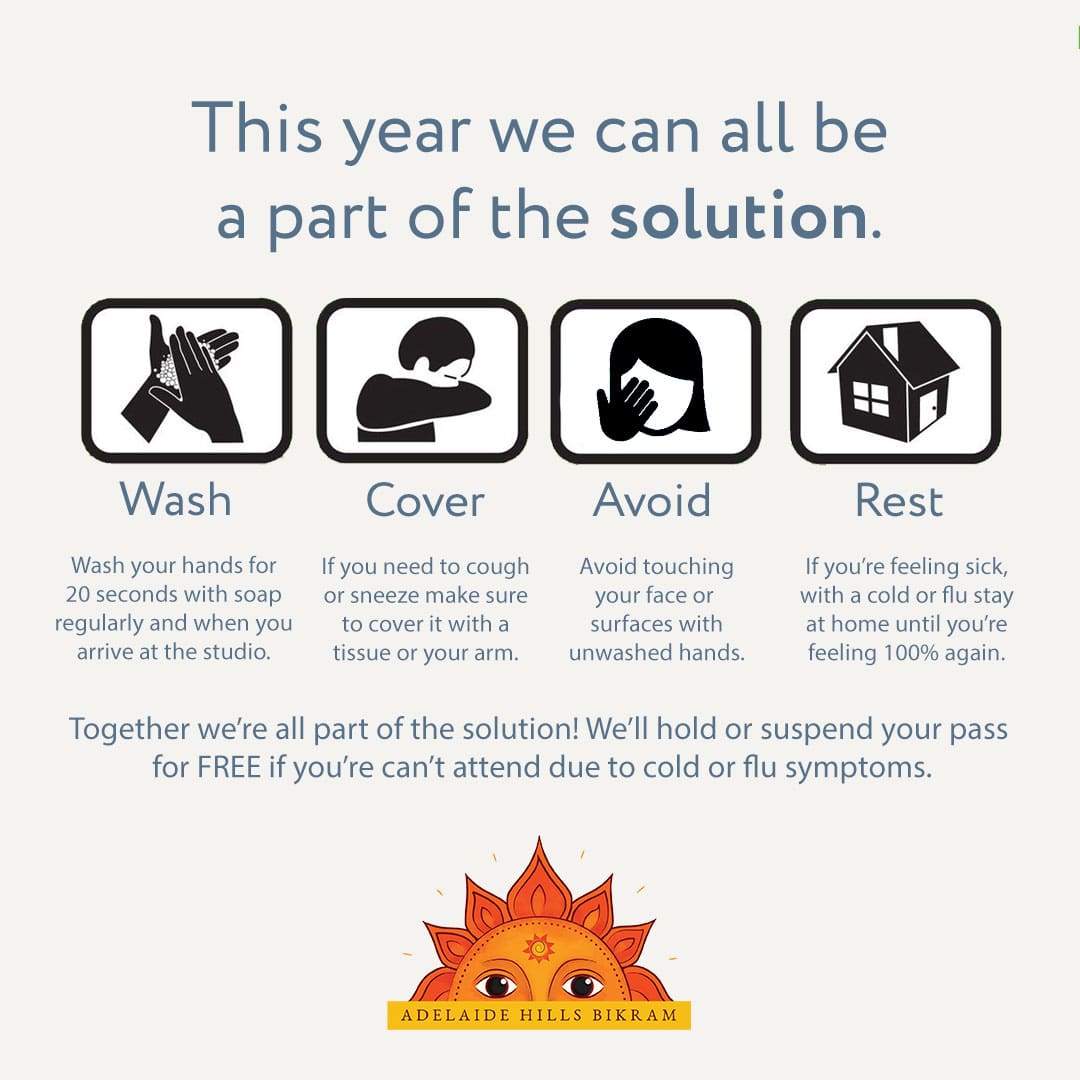 Every year we prepare for the cold and flu season at the studio, but this year in particular we're here together with you to keep you healthy and fit. That's why we're letting you know what we are doing and how you can help be a part of it to make sure everyone feels comfortable coming to practice at our studio.
The great news is that our studio is one of the cleanest and safest places to practice in and there isn't any risk coming to class.
Being a part of the fight
We have an awesome community that is already following great hygiene and best practice! But in making sure that everybody feels comfortable coming to class, we're asking for your help to make sure our studio remains germ free in 2020! You can help with these simple steps:
If you have cold or flu symptoms (no matter how mild), to make sure everyone feels comfortable, take a rest from practice until they have completely passed – We'll extend or hold your pass for FREE and will put you into a random discount/prize draw as a thank you!
Wash your hands regularly and when you arrive at the studio - even if they're already clean.
If you have to cough or sneeze, catch it with a tissue, towel or the inside of your elbow and wash your hands after.
If you are returning from overseas remember to wait 14 days before attending class.
With these simple steps our community will remain germ and virus free for the rest of the year and you can feel comfortable and confident you're in the safest environment.
What we're doing
Inside the studio we will continue to maintain one of the cleanest facilities to practice in, with high frequency antibacterial cleans (natural plant based) on all surfaces.
Our studio is also fitted with antibacterial surfaces and air filters which act 24 hours a day to keep you safe. This combined with temperature and humidity inside the studio makes for some of the least survivable conditions for Influenza and coronavirus type viruses.[1]
For the time being we're also encouraging students to double down on their personal hygiene and to think about bringing their own mat, towel and hand towel. However, we will continue to have towels and mats available for hire which are disinfected and cleaned after every use.
Practice that makes you healthier
Each class is making you healthier, reducing your chances of getting sick and boosting the effectiveness of your immune system.[2] Practicing classes at our studio is not only safe but also great for your health.
Keeping your body active and looking after it is crucial to warding off the threats posed by the cold, flu and viruses. We will be right there with you throughout the year to keep your body healthy, fit and in the best condition possible.
---
So make sure to keep up your practice and be confident we're right here with you supporting your health in 2020 in the safest and cleanest environment possible.
---
[1] Effects of Air Temperature and Relative Humidity on Coronavirus Survival on Surfaces